12 August is the day when International youth day is celebrated under the banner of United Nations (UN). This day is observed to make people realize the rights and needs of youth and draw the attention of youth towards their socio-cultural rights and basic rights.
It is meant as an opportunity for governments and others to draw attention to youth issues worldwide. During IYD, concerts, workshops, cultural events, and meetings involving national and local government officials and youth organizations take place around the world.
It was first celebrated in 1999.International Youth Day's Slogan for 2014 was Youth and Mental Health. For 2015, it was Youth and Civic Engagement. The theme of the 2016 International Youth Day was "The Road to 2030: Eradicating Poverty and Achieving Sustainable Consumption and Production." For 2017, the theme of IYD was "Youth Building Peace". In this way it will go on which recognises the contributions of young people to preventing conflict, supporting inclusion, social justice, and sustain peace.
Theme for Youth Day 2018 is "safe spaces for youth".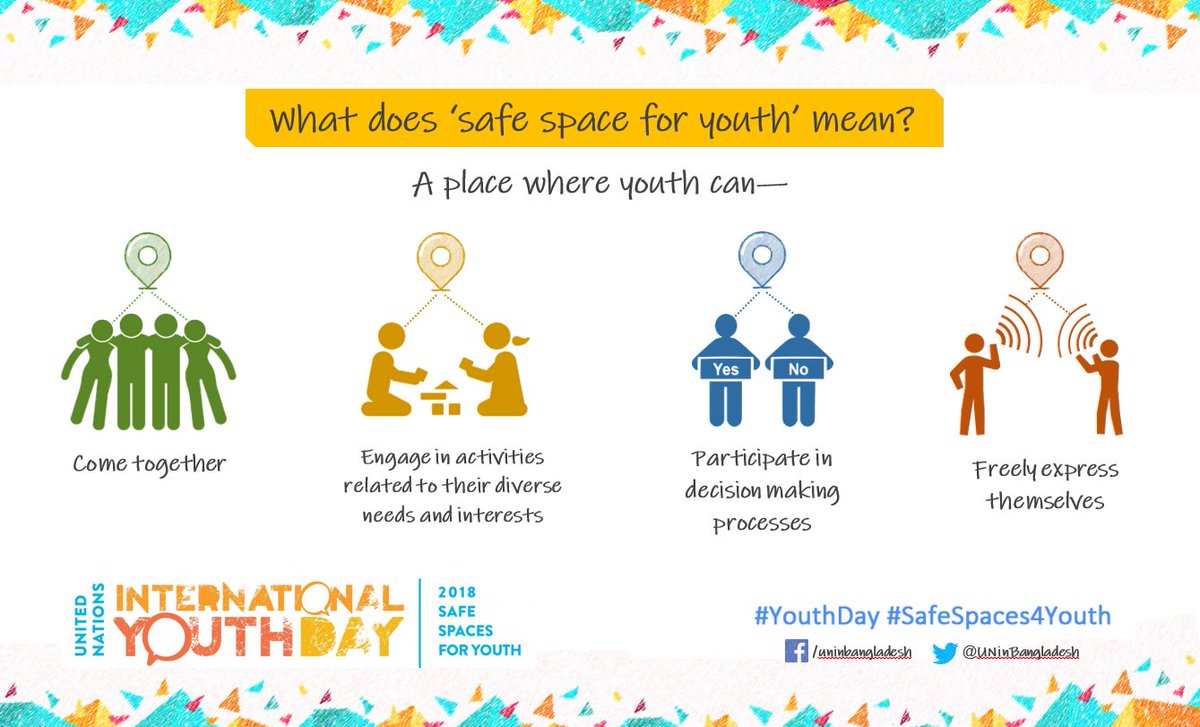 It's not just to protect them, but to include them in the development of communities around the world, whether they're rich or poor.
Among the focal areas for youth development and protection with this UN initiative include education, employment, the environment, delinquency, girls and young women, HIV/AIDS and intergenerational relations. These were officially decided upon in 1995, the tenth anniversary of the International Year of the Youth.
It's a basic right for every individual to have it's own basic safe space and by this term I meant to say a place where no ethnic,religious, social, you name it kind of boundaries could hold a person's self development skills, harm his self-confidence, make him feel left out.
That's the only way to make youth of anywhere stronger by giving them equal deserved opportunities and stretching hand towards them for their benefits and betterment.
We have so much talent hidden in us but the self-created boundaries aloted by society to us are the only hindrance in achieving them. And without overcoming all of them we should not and could not call ourselves empowered.
Because, empowerment doesn't mean to have freedom for yourself but creating a perfect space for others by being strong enough to stop what's wrong an support what's right.
From religion to ethnicity and from race to roots people are being judged and by these parameters it's decided that whether a person is good or not whether he can be good enough or not.
And we always end up concluding the people who share same above mentioned parameters as good and rest as evil or devilish.
After having so much freedom in all senses we need to get basic knowledge about acceptance and appreciation, Karma is named as bitch are it's right cause it's you mocking someone else on your parameters and if you continued this practice sooner you will be mocked on those same parameters by someone else. By making others safe you are securing yourself too.
Be safe and make people safer.